China powering ahead in nuclear sector
Share - WeChat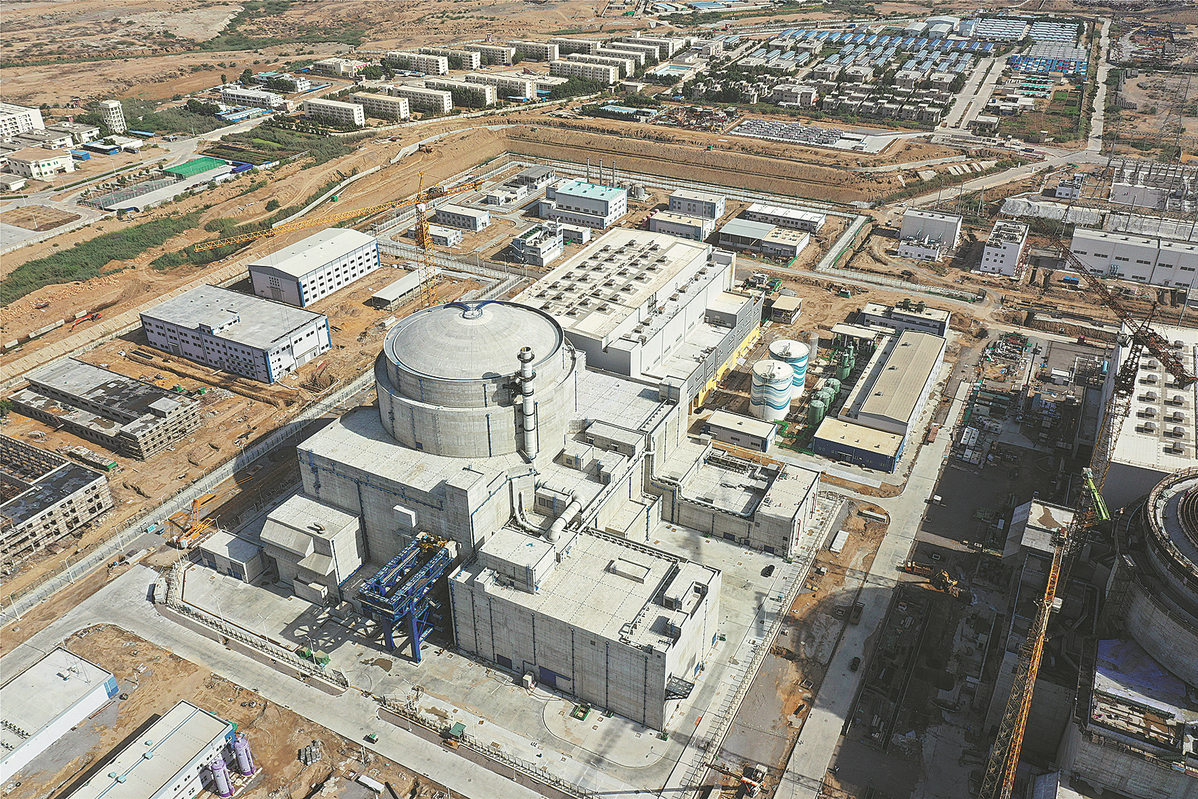 China has made significant strides and achieved substantial breakthroughs in the field of nuclear science and technology over the past five years, a top company executive said on Tuesday.
The country, which is becoming a notable player in the global nuclear landscape, has been actively developing nuclear power capacity, which is contributing to a more diversified energy mix that will help meet its growing energy needs while also reducing greenhouse gas emissions, said Yu Jianfeng, chairman of China National Nuclear Corp.
Following years of investment in research and development across various areas of nuclear science, China has mastered the core technologies of third-generation nuclear reactors, and it has gone from a novice to expert level in the nuclear energy sector, Yu said at a news conference in Beijing.
The country has become an international supplier of nuclear technology and equipment, and is ranked among the top players, he said. China is now exporting its domestically developed reactors and associated technologies, especially to countries and regions participating in the Belt and Road Initiative. This demonstrates the nation's confidence in its nuclear capabilities and desire to become a global player in the nuclear industry, Yu said.
CNNC kicked off construction of Unit 5 of the Chashma Nuclear Power Plant in Pakistan last month, the third nuclear power unit using Hualong One, a homegrown third-generation nuclear power technology that China has exported to Pakistan, the company said. This is the seventh nuclear power unit exported to Pakistan, it added.
Yu said nuclear power is expected to be applied in more sectors going forward.
China has already increased the use of nuclear power for heating — for residential and industrial units — in recent years to maintain steady energy supply. Application of nuclear technology in fields like medicine and industry has also been accelerating, he said.
According to the China Nuclear Energy Association, China continues to lead the world in the number of under-construction nuclear power units, with 24 such plants with a total planned installed capacity of 26.81 gigawatts.
The country has so far put into operation 54 commercial nuclear power units with a total installed capacity of 56.82 GW, ranking third worldwide after the United States and France.
It has also maintained an excellent nuclear safety record, ranking among the highest in terms of nuclear power safety operational indicators globally, it said.
According to China's 14th Five-Year Plan (2021-25), the government is planning to have 70 GW of installed nuclear capacity by 2025.
The State Council in a meeting held on July 31 granted approval to six new nuclear power units in Ningde, Fujian province; Shidaowan, Shandong province; and Xudapu, Liaoning province.
China's nuclear sector has been progressing steadily with higher attention paid to independent research and manufacturing, said Lin Boqiang, head of the China Institute for Studies in Energy Policy at Xiamen University.
CITIC Securities said that the accelerated approval of nuclear power projects will lead to the growth of China's related industry chain, aiding the country's goal of reducing carbon emissions sooner.
It estimates that the value of investments in new nuclear power plants will hit 231 billion yuan ($31.80 billion) by 2025.
As China is going through a green energy transition, nuclear power is expected to play a greater role within the renewable power mix, said Gu Jun, general manager of CNNC.