Films to see during the summer holiday
Share - WeChat
As we reach the midpoint of the summer season (June 1 to Aug 31), the film market is experiencing a remarkable surge. As of July 19, the total domestic box office for the summer season has already exceeded 9.3 billion yuan (nearly $1.3 billion), surpassing the 9.14 billion yuan achieved throughout the entire summer of 2022.
Here we recommend five domestic films that have won praise from audiences this season. Take the opportunity to beat the heat by treating your children or friends to an afternoon or evening at the cinema.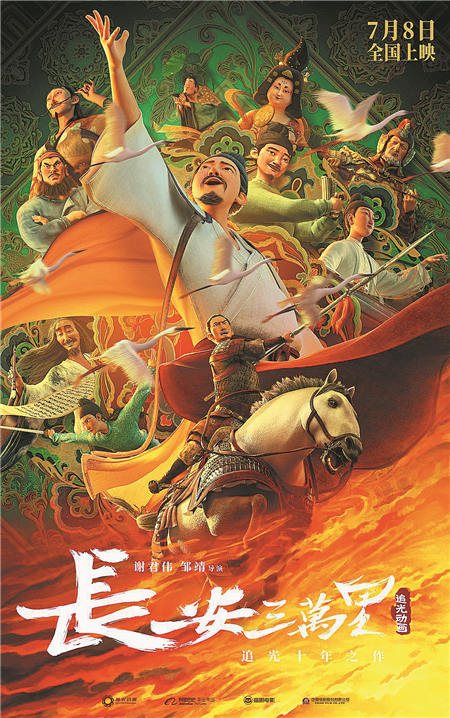 1. Chang'an
As the inaugural work of Light Chaser Animation's "New Culture" series, the film Chang'an takes its title from the ancient name of Xi'an in Shaanxi province, which served as capital of the Tang Dynasty (618-907) for over 280 years.
The film primarily revolves around the extraordinary lives of the great poets Li Bai and Gao Shi, highlighting their enduring friendship. It also breathes life into other iconic figures of that era and features a selection of renowned poetry verses, some of which are still widely studied in modern-day textbooks.
Set against the rich tapestry of history, the animation showcases the prosperity of Chang'an, the picturesque charm of Yangzhou, the resplendent Yellow Crane Tower and the splendor of the Three Gorges, among other stunning scenes, offering audiences a captivating visual experience.
At an impressive 168 minutes, Chang'an is the longest Chinese animated movie, a rare epic in the form.
As students enjoy their summer vacations, the film has been warmly embraced by children and their parents alike, providing an invaluable opportunity to delve deeper into the ancient Tang Dynasty, its esteemed poets and the timeless allure of their work.
Most Popular