Sinologist dedicates life to promoting eastern culture
Share - WeChat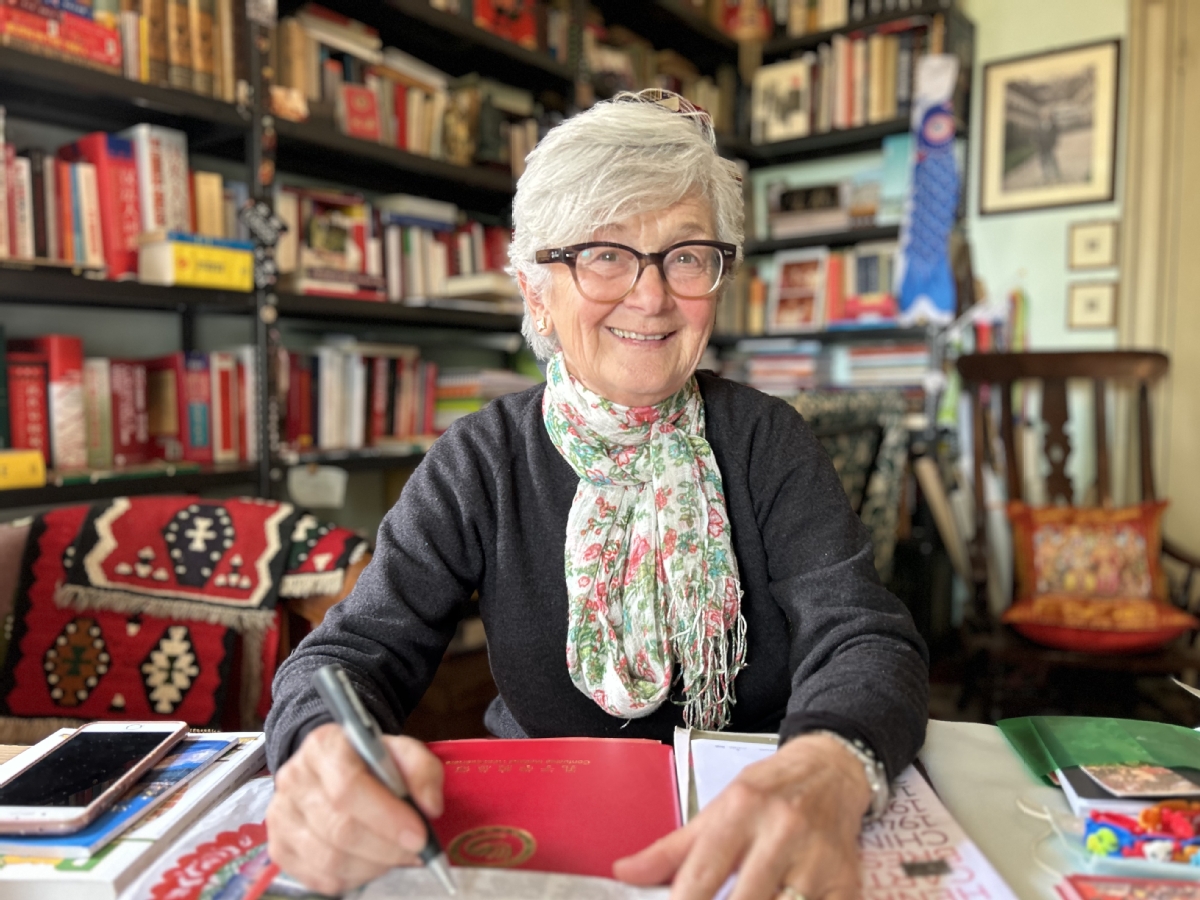 Situated in the tranquil countryside of Piedmont in northwestern Italy, Alessandra Lavagnino's 120-year-old family home is a charming abode where East meets West.
Upon entering her house, visitors can immediately feel a profound connection between China and Italy, as the rooms are adorned with an exquisite collection of Chinese artifacts and ornaments, a vivid testament to Lavagnino's deep affinity with China and her invaluable role in fostering cultural exchange between the two nations.
Since her first visit to China in 1974, Lavagnino has dedicated her life to understanding and appreciating Chinese culture. For decades, she has undertaken the arduous task of translating Chinese literature masterpieces into Italian, bridging the gap between these two ancient civilizations.
"I found it challenging, yet intellectually stimulating, to discover a different way of life on the other side of the world," Lavagnino told China Daily. "Coming from a background deeply rooted in Western culture, I was intrigued by the stark contrasts and unique perspectives offered by the Chinese way of thinking."
She dedicated 15 years of her life to translating Wenxin Diaolong, or The Literary Mind and the Carving of Dragons, exemplifying her commitment to promoting cultural exchange. "This work is a literary masterpiece for China, similar to Aristotle's Poetics. However, while Chinese people have learned about Aristotle, there are few Italians or Westerners who are aware of such Chinese literature," she said.
Lavagnino's efforts to connect Italy with China have not gone unnoticed. Scholars and students alike describe her as "the Italian voice of China", an inspiring figure who has kindled a deep curiosity and desire to understand China among young Italian Sinologists.
Her passion for China has led her to various teaching and research positions. She worked at the Italian embassy in Beijing as a press counselor from 1994 to 1998, gaining valuable experience outside the academic realm. Since 2003, she has held the position of professor of Chinese language and literature at the University of Milan, where she also serves as the director of the Confucius Institute.
At the Confucius Institute, she plays a key role in organizing cultural exhibitions and publications, introducing Italians to the wonders of Chinese art and heritage.
Last year, she spearheaded an exhibition on Qi Baishi, a renowned Chinese painter who is relatively unknown in Italy. Through such projects, Lavagnino aims to make Chinese cultural treasures accessible to the Italian people. "The idea is that we need to follow a cultural path in order to establish common discourse. Every civilization has its own unique characteristics and ways of developing, and it is important to accept and respect these differences," she said.
"However, we also need to find a common ground or a 'rope' that brings us together. By learning from each other's cultures, we can establish a common language and move forward as a country or society."
Acknowledging the delicate nature of international relations, Lavagnino emphasized the importance of academic and cultural exchange in building a solid foundation for fruitful diplomatic ties.
She said her vast network of Chinese and Italian acquaintances built over half a century is of great advantage, as it enables her to bring together individuals who share common interests to bridge collaboration and understanding between the two countries.
"In this crucial moment of our history, we have to open our eyes and embrace other people and civilizations," she said. "By fostering mutual understanding and respect through cultural dialogue, we can build harmonious coexistence and cooperation between Italy and China."