Uncanny resemblance wins beer envoy role
Share - WeChat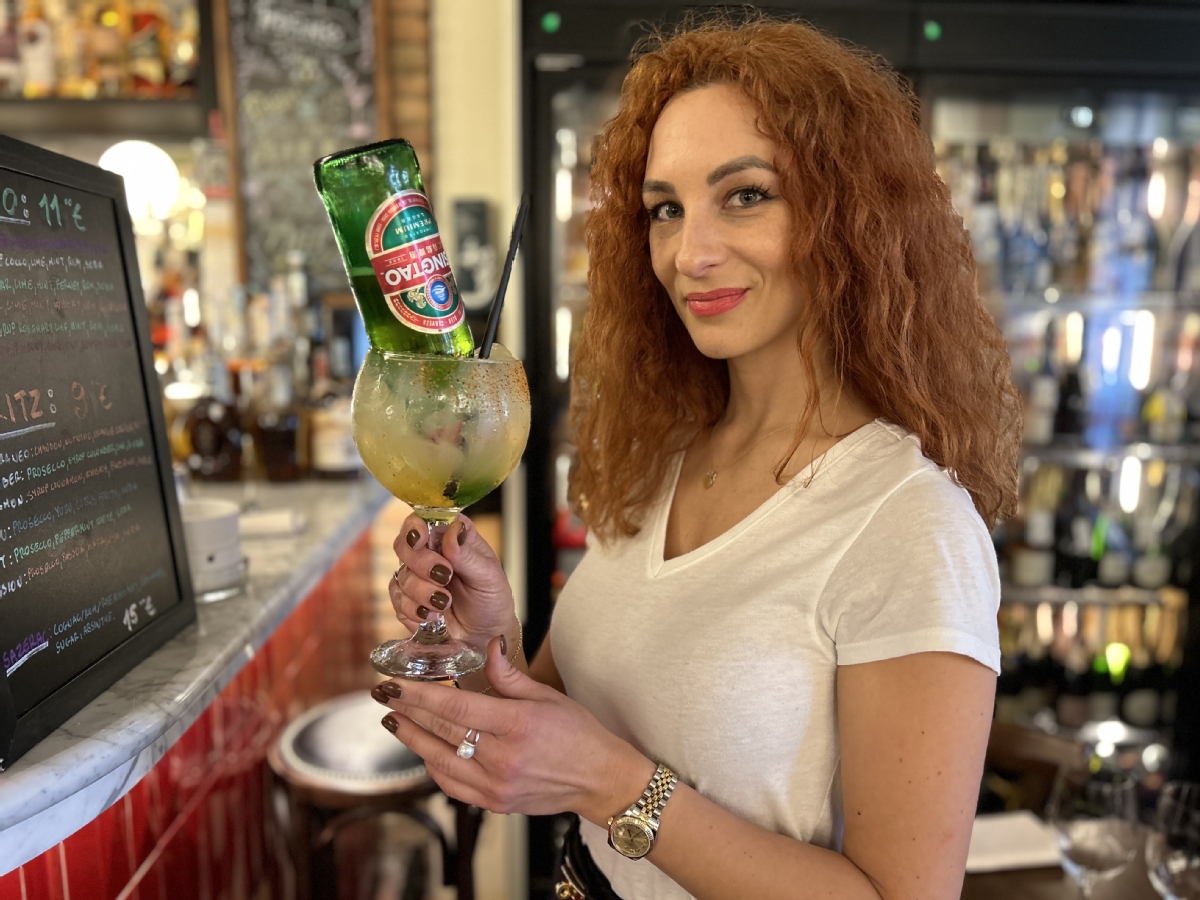 For Jacqueline Capuzzi, bearing a striking resemblance to a model in a Chinese beer advertisement was not something she had expected.
The 34-year-old Italian had just moved to Rome from Pescara city when her friend noticed the resemblance between Capuzzi and a model of a Tsingtao Beer advertisement. Intrigued, her friend called Capuzzi to ask if she was indeed the model featured in the Tsingtao Beer advertisement, to which she said no.
Shortly after, her friend, who also happens to be friends with the owners of Astemio bar, reached out again and asked if she would have any interest in working at the bar promoting Tsingtao Beer.
Capuzzi, who now works at Astemio, soon found herself closely associated with Tsingtao Beer.
However, she ran into some difficulties at the start as selling Chinese beer in Italy proved to be a challenge. Italians had reservations about products from outside their country. There was a perception that anything not from Italy may not be of the highest quality, Capuzzi said. Overcoming this bias was a difficult task.
However, through persistence and building trust with customers, Capuzzi managed to change their perception and introduce them to Tsingtao Beer. "When I first started selling Tsingtao, it was tough as few people were willing to give it a go," she said. "But as people started trying the beer and putting their faith in it, word began to spread. Now, on a good day, we can sell several cases a day."
The change in perception toward Chinese products, including Tsingtao Beer, can be attributed to growing bilateral relations. As the relationship between the two countries strengthens, Italians become more curious about China and its culture.
Significant player
China's exposure on the global stage played a significant role in generating interest and fostering a sense of closeness between the two nations, Capuzzi said.
Capuzzi takes pride in her role as a cultural and business facilitator between China and Italy, bridging the gap and promoting understanding between the two cultures.
While politics can sometimes complicate the relationship between countries, Capuzzi believes that people-to-people connections, trade and business interactions continue to thrive.
Tsingtao's success in Italy has been evident as demand has grown considerably.
Tsingtao has become a popular choice in bars and restaurants, with distributors and customers alike happy with its quality. Capuzzi said Italian beers are also now being sold in Chinese restaurants, illustrating the integration and acceptance between the two cultures.
She aims to continue her work as an "ambassador", promoting Chinese beer and culture in Italy. Two years ago, she started exploring mixing Tsingtao beer into cocktails, hoping to offer a unique Chinese twist to Western drinks.
Capuzzi said the China-Italy relationship will only go upward. Though challenges exist, she believes that as long as connections between the two countries continue to strengthen, it will pave the way for better trade, cultural exchange and understanding.