Fighting to understand the concept of beauty
Share - WeChat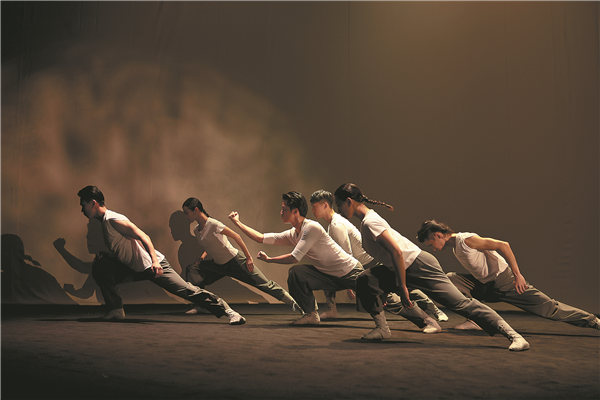 Production combines the balance and power of martial arts with the elegance and rhythm of Chinese-style dance, Chen Nan reports.
In 2018, the Hong Kong Dance Company launched a three-year-long project researching and studying Chinese martial arts. The company's dancers and the project's initiator, Yang Yuntao, who is the artistic director of the company, took weekly classes and workshops with Chinese martial arts instructors and kung fu masters.
The result is a new dance production, titled Convergence, which brings the company's findings about Chinese martial arts together with its knowledge of Chinese-style dance.
On July 15, the dance production made its Chinese mainland debut at Beijing Tianqiao Performing Arts Center. The company will travel to Urumqi to stage the production during the 6th China Xinjiang International Dance Festival on Friday and Saturday.
According to David Tsui, executive director of the Hong Kong Dance Company, Convergence was premiered with an online screening in 2020, due to the COVID-19 pandemic, which forced performing arts venues to close temporarily.
"Chinese martial arts have a long history and they are iconic symbols of traditional Chinese culture. Of all the styles of Chinese martial arts, the Hong Kong Dance Company has explored southern Chinese martial arts and its quintessential rhythmic patterns of the body," Tsui says. He elaborated that the company has learned, and has gained an insight into, different southern Chinese martial art styles, such as Lingnan Hung Kuen, Choy Lay Fut, Fujian White Crane and baguazhang, or eight-diagram palm.
"They not only trained their bodies but also their minds. Convergence is about an exploration of stillness and motion, between dance and martial arts," he says.
Most Popular