Swedish embassy in Iraq stormed ahead of burning plan
Share - WeChat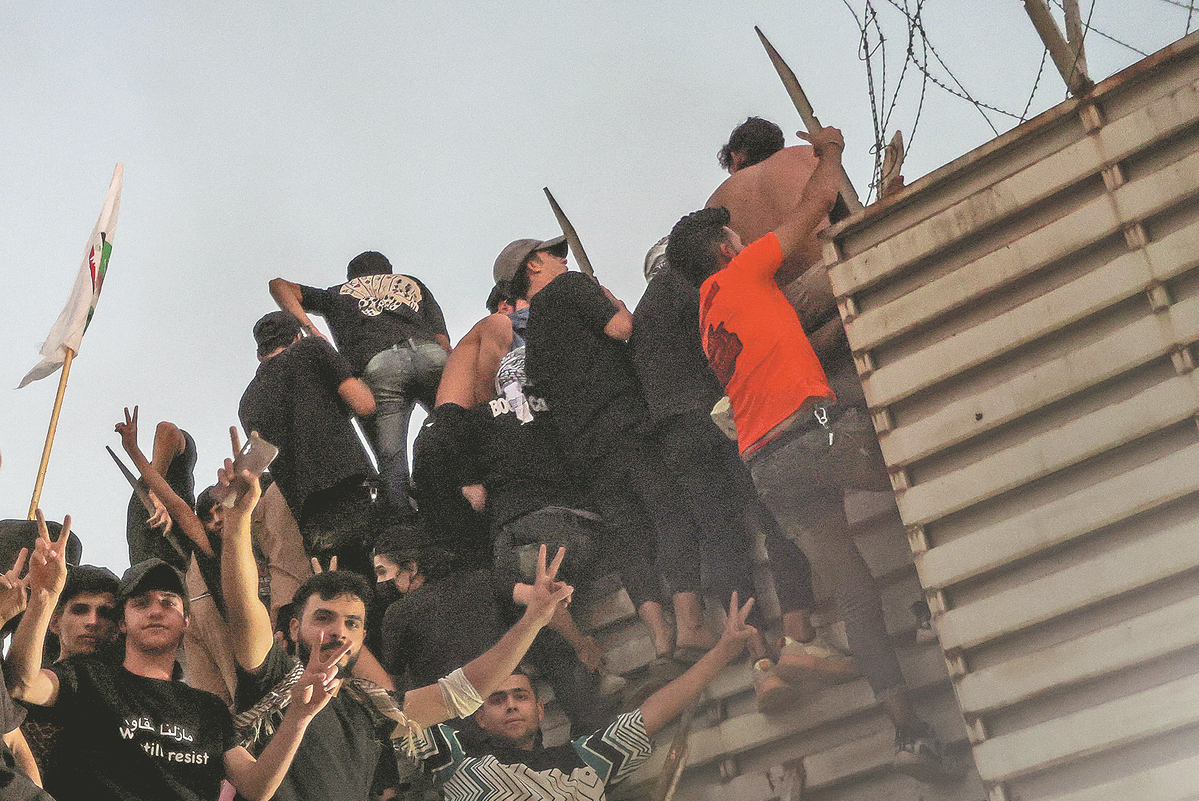 BAGHDAD/STOCKHOLM — Hundreds of protesters stormed the Swedish embassy in central Baghdad in the early hours of Thursday morning, scaling its walls and setting it on fire in protest against the expected burning of a Quran in Sweden.
The demonstration was called by supporters of the cleric Muqtada al-Sadr to protest the second planned Quran burning in Sweden in weeks, according to posts in a popular Telegram group linked to al-Sadr and other pro-Sadr media.
Swedish police on Wednesday granted an application for a public meeting outside the Iraqi embassy in Stockholm on Thursday, the police permit showed. Police said in the permit two people were expected to participate.
Swedish news agency TT reported that the two planned to burn the Quran and the Iraqi flag at the public meeting, and included a man who set a Quran on fire outside a Stockholm mosque in June.
Swedish police denied several applications earlier this year for protests that were set to include burning the Quran, citing security concerns. Courts have since overturned the police's decisions, saying such acts are protected by laws.
Iraq's Foreign Ministry condemned the incident in Baghdad on Thursday and said in a statement the Iraqi government had instructed security forces to carry out a swift investigation, identify perpetrators and hold them to account.
"The Iraqi government has instructed the relevant security services to conduct an urgent investigation and take all necessary measures to uncover the circumstances of the incident and identify the perpetrators," the ministry said in a statement.
Iraq has ordered the Swedish ambassador to leave and decided to withdraw its envoy from Stockholm, a government spokesman said on Thursday.
Iraq's state news agency reported that Iraq had suspended the working permit of Sweden's Ericsson on Iraqi soil, according to Reuters.
Tight security
All Baghdad embassy staff members were safe, the Swedish foreign ministry news office said in a statement, condemning the attack and highlighting the need for Iraqi authorities to protect diplomatic missions.
Sweden's foreign minister said the country summoned Iraq's charge d'affaires in Stockholm after the incident.
By dawn on Thursday, security forces were deployed inside the embassy and smoke rose from the building as firefighters extinguished stubborn embers, Reuters reported.
An Iraqi immigrant last month burned a Quran outside a Stockholm mosque during the major Muslim holiday of Eid al-Adha, triggering widespread condemnation in the Islamic world. A similar protest was held outside the Turkish embassy earlier this year, complicating Sweden's efforts to convince Turkiye to let it join NATO.
In June, protesters stormed the embassy in Baghdad during daylight hours over the Quran burning. Another day of protests saw thousands of demonstrators on the streets in Iraq.
XINHUA