US, EU de-risking biggest source of risks worldwide
Share - WeChat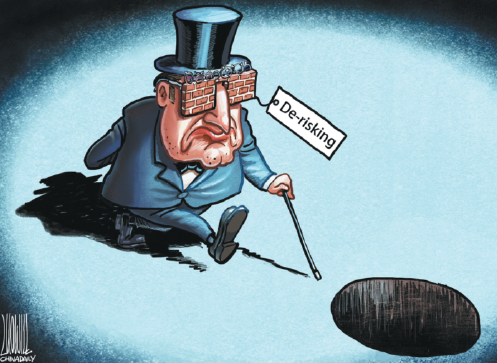 The United States and the European Union say they are no longer pursuing "decoupling" from China and instead are pursuing a policy of "de-risking" trade from China. US politicians including US National Security Advisor Jake Sullivan and US Secretary of State Antony Blinken said that the US does not seek confrontation. And the US plans to follow a strategy of "small yards with high fences" in the field of critical technology, and restrict the exports of advanced semiconductor technology to China, on the pretext of safeguarding national security, while conducting "normal" trade in other fields.
The first to use the term "de-risking", however, was European Commission President Ursula von der Leyen. She mentioned the term in her speech on the EU's policy toward China in March, indicating the European bloc aims to reduce its economic dependence on China. The EU will achieve that goal by following the Economic Security Strategy, which it released recently, while Germany will do so by pursuing a new strategy toward China.
In recent years, the EU seems to be suffering from an increasing sense of insecurity in its relations with China, perhaps because it believes it is losing its trade advantages vis-à-vis China. As a result, the EU has only been pursuing a policy aimed at reducing its economic dependency on, and accelerating the decoupling of its supply chains from China, which have had a negative impact on Sino-EU economic cooperation. Also, since the Russia-Ukraine conflict broke out, EU countries have been flocking to the US' security umbrella.
However, the US is using the term "de-risking" as a substitute for "decoupling". While it wants to continue to derive benefits from China, it has not abandoned its Cold War mindset of plotting to contain China's development.
The US doesn't want to give up the benefits it derives from Sino-US trade and the vast Chinese market. Despite the souring of Sino-US relations over the past years, bilateral trade has continued to grow, with the total volume in 2021 reaching $755 billion, up 28.7 percent year-on-year, and declining slightly to about $700 billion in 2022.
China is a dynamic growth market, and its strong support for technological innovation and cooperation has helped innumerable US companies operating in China to make huge profits. Benefiting from the strong demand of its chips in China, Intel earned more than 40 percent of its revenue from the Chinese market from 2018 to 2020, and in 2021 Qualcomm and NVIDIA earned a combined $12 billion from their sales in China. This shows the interdependence and mutual benefits of Sino-US economic relations, and the US cannot afford to give up those benefits.
Yet the US' strategy to check China's rise has remained unchanged. To engage in strategic competition with China, the Joe Biden administration has significantly strengthened its strategies and industrial policy, and has been trying to restructure the global industry and supply chains through "de-risking" and "reshoring" policies and by strengthening and expanding its alliances.
The Joe Biden administration is also persuading, even coercing, its allies to restrict their exports to China and use stronger containment measures against the country. The "high fences" are getting higher while the area of the "small yards" has expanded from the original cutting-edge industries such as semiconductors and artificial intelligence to the key mineral resources sector.
The US' "de-risking" approach is fragmenting and disintegrating the global industry and supply chains, as the US and some of its allies are trying to import some of their products from countries other than China, and restrict the exports of certain products and technologies to China. However, the global industry and supply chains are not made of one or two links. They require the coordinated efforts of all upstream and downstream industries, and smooth and effective functioning of logistics suppliers.
While the US is trying to forcibly reshape the global industry and supply chains through legislation and political intervention, it will taste only short-term success in forcing its allies to shift their trade away from China and end up destabilizing not only global industrial collaboration but also its own industries.
The EU's de-risking policy, too, carries significant risks and could seriously harm its economy. Through the Economic Security Strategy, the EU aims to achieve de-risking trade from China, and by using tools such as "anti-coercion measures", "resilient supply chains", "foreign investment screening" and "trade agreements", it hopes to safeguard its economic security.
The de-risking measures proposed by the EU are likely to create even greater risks. For example, to implement the "countermeasures", the EU may have to impose additional tariffs on, or intentionally delay or refuse to issue licenses to specific businesses. That will not only significantly increase the trade costs but also build more global trade barriers. Such weaponization of trade will fail to reduce the risks, and cause mutual damage, further deteriorating the global trade environment.
Hence, the de-risking measures of the US and the EU are the biggest source of risk globally.
The author is deputy director of the Institute of American and European Studies, China Center for International Economic Exchanges. The views don't necessarily reflect those of China Daily.
If you have a specific expertise, or would like to share your thought about our stories, then send us your writings at opinion@chinadaily.com.cn, and comment@chinadaily.com.cn.
Most Viewed in 24 Hours
China Views